1. Amazing, Hospitality focused staff
You already have enough work to do, let us focus on running the office. Our staff is trained in hospitality and are available for anything from printer malfunctions to sitting in and watching you practice your demo pitch. When you are at Nomadworks, we have all the little things covered so you can focus on your business.
2. Clean, socially distanced meeting rooms of all sizes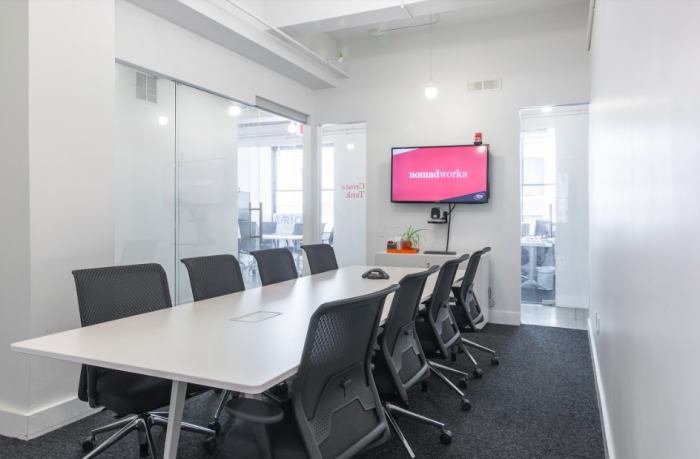 We understand the importance of a professional and safe meeting room. We have several conference rooms with smart TVs, conference phones and white boards suitable for two and up to spaces for a safe, socially distanced meeting for 40.
3. Private lounges for a more relaxed, and distanced work space/meeting
Our more relaxed lounges are perfect for someone looking to work independently or to have a casual meeting with a colleague. The soft seating and low tables are perfect for interviews or round ups and they also have smart TVs that can hook up to any computer.
4. Rooftop and soft seating with refreshments and stunning views
Every worker in New York wishes the same thing, for more time outside! We have heard you! This year we opened up our new Nomad Terrence that has soft seating, shaded areas and amazing views of the Empire State Building. Our inhouse hairdresser can take appointments in the open air and our yoga teachers host free yoga and zumba class' too.
5. A Lot of natural light for that much needed Vitamin D in a low rise building.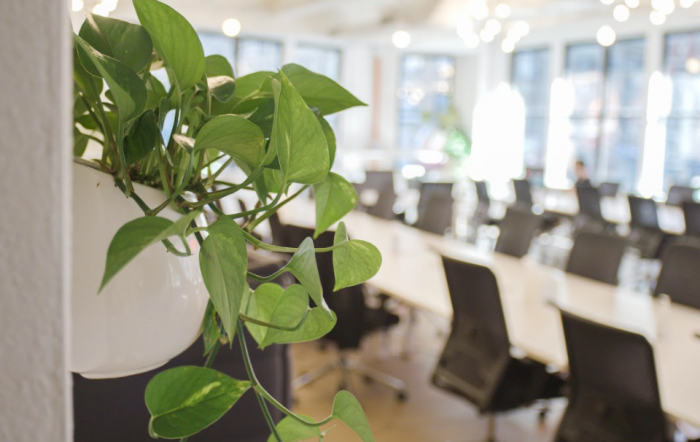 One of the perks of Nomadworks during Covid-19 is the ability to use our one way staircases up and down to avoid enclosed spaces like elevators. As the New York Times recently captioned "low rise is the new high rise!" Just because our office is low rise doesn't mean we are shadowed. Our large, wall to wall windows offer amazing natural light and create an airy, open atmosphere in the middle of Manhattan.
6. Heightened Covid Safety Measures
The most important goal of Nomadworks is to keep our members safe and happy. During the pandemic we have increased cleaning, created hand sanitizing stations, implemented one way hallways and staircases, introduced UV lights into our wash rooms, and enforced social distancing and masks.
We even created a new membership, our Part Time NYC Membership where you can pay to use a small private office a few days a month to give you the flexibility to work as you need.
7. Printers on all floors (with free credits of course)
Not everything is digital! Printing is a huge part of business, even in the 21st century. We have state of the art printers on all of our floors to give our members easy access, plus generous free credits for ease of use.
8. A plant wall and greenery all around the office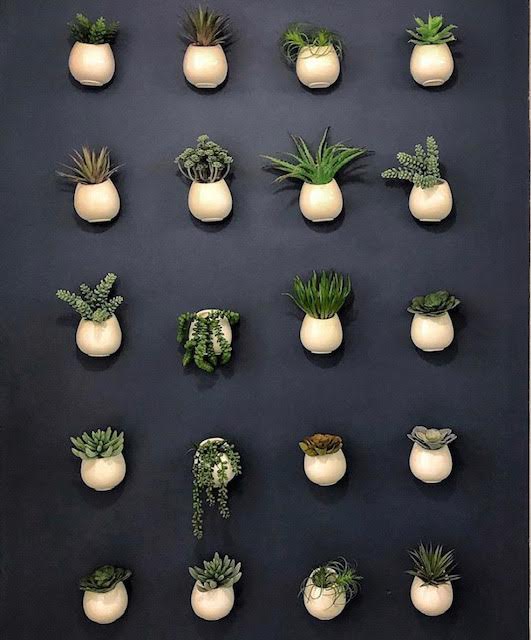 Studies show that plants and greenery help with focus and general happiness in the workplace. We love having large plants in our cafe areas and scattered around the space so our large office can still feel cozy and fresh. Oh, and do you have a plant in your office that you need watered while you are away? We're on it!
9. Bagel Mondays and Happy Hour Thursdays!
Mondays don't need to be painful. We provide free bagels (as well as our amazing selections of teas and coffees) for our members so they can start the week off the correct way – fresh bagels and cream cheese. And of course, we need to end the week with a community happy hour. We have the perfect mix between fun and social while keeping the workplace professional for all
those working through the night to a deadline.
10. Adorable Puppy Coworkers (Yes, were pet friendly!)
We don't choose favorite members, but we love the puppies that come to work everyday! Our private office members are welcome to bring in their pets as long as they are open to all of the attention. However, we understand some people aren't comfortable with animals running around the workplace. Our rules allow pets if they are in private offices or with their owners when they are in the common space so all members can feel comfortable.
Bonus: Bike Rack for all, the perfect way to avoid the subway.
Biking to work is great exercise and since the pandemic, a great alternative to public transportation. Our office bike rack is free to use and safe to leave your bike overnight in case the weather takes a turn for the worse during the day. Plus we have citibike stations opposite if you prefer!