Virtual Office Space in NYC
From: $65 / month.
Keep your cost base low, and let us manage your HQ hassles! Enjoy the benefits and flexibility of your premium Manhattan mailing address at an affordable price.
Join Now
Membership Details
Whether you're a global brand, or a blossoming start-up, becoming a Virtual Nomad with our New York business mailing address will give you the flexibility and prestige to grow and succeed!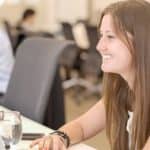 Amenities
Premium Manhattan Address
Inbound & Outgoing Mail Handling
Special Rates For Conference Usage
Dedicated NYC Phone Number & Messaging
With the Nomadworks Virtual Office Plan you gain a premier NYC address without the costs and being able to work from anywhere. You can use our prestigious Broadway, NYC address on your website, business cards, and company documents and we can take the hassle out of mail services. You also gain the extensive benefit of our amenities and community support.
Mail is received every day and kept in a locked mail closet after being sorted. We regularly forward mail. If you have received a package we will email you so you can instruct us regarding next steps!
We provide our Gold virtual office members phone service with a NY area code which provides you with a stable foothold in New York City for your business to operate and grow. You can either receive forwarded calls to your desired number, or simply a text or email transcription. For a small increment you can also receive professional receptionist call answering and filtering services.
Yes, with virtual membership you will have access to our discounted membership conference room and meeting room rates, and access to our space.
Give your business a premium address in New York City and it will give you a leg up on the competition without the fixed overhead.