Dedicated Desk
From: $450 / month.
Mark your territory in our large, social distanced and partitioned open space with a dedicated desk and enjoy all the benefits of coworking.
Join Now
Membership Details
Our dedicated desks are located on our quiet 2nd and 3rd floors with large windows offering natural light, wide corridors, plentiful chat and phone rooms and sensibly planned office traffic flow.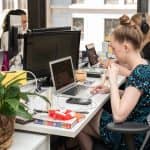 Amenities
A logo-branded desk
Special rates for conference usage
Lockers and additional storage space
Free wellness program and events
Full use of our amenities
Upgrade to premium dedicated desk for $100
24/7 access
Yes, All memberships from our Club membership at $400/month upwards allow you 24/7 access to the space.
Yes, we also provide a Virtual mailbox service with our Virtual Office membership. With this membership, you gain a prestigious Manhattan office address, mail forwarding, discounted access to executive office suites, and the ability to run a NYC office from the comfort of any location!
We love pets at Nomadworks and want our members to feel comfortable to keep them in their private offices.
Yes, we accept both! We have a Nomadworks App where you can easily manage your account details from your phone.
We have a broad array of businesses and entrepreneurs that work out of the community including web developers, marketing companies, financial consultants, non-for-profits and many more. We also have creatives such as authors, designers and promotional speakers.
There are kitchens, refrigerators and microwaves on each floor to both keep and heat your food. So feel free to bring any snacks or meals with you.
Yes, we love welcoming new people into our community! We have several spacious meeting rooms that you and your guests can book to work out of safely.
We offer our members access to a full kitchen and a coffee bar on each floor, including a comprehensive selection of delicious coffee and teas with filtered and spa water.
We are conveniently located on the corner of 30th Street & Broadway, in the north of the Nomad District, Manhattan, a short walk from Penn Station and Herald Square. Subway lines:1, 2, 3,4, 5, 6, N, Q, R, W, B, D, F, M.
Of course, we have a large bike storage area on our 3rd floor that is free for all of our members. We also are located near 3 Citibike locations in the neighborhood.
We are fortunate to be on the corner of 30th & Broadway and have large windows and wide corridors that allow for beautiful natural light and can open for some fresh air.
We have a brand new, private open-air rooftop terrace, directly looking onto the Empire State building. Your terrace is a great place to have small, socially distanced meetings and our in-house hair stylist is starting to take clients.
Either pop in for a daily pass at $35 or try out our Come & Go membership at $200/month for 10 days/month of coworking where you can work out of our spacious, open work space.  For full member privileges and access take our Club Membership at $400/month.
We have two locations on Broadway as well as 8,000+ partnership locations around the world!
Our coworking office is always encouraging communication and meetings. In addition to the office space, we have numerous free phone booths,and large, spacious breakout and meeting rooms, as well as larger conference rooms designed to house 10+ people safely. Our largest meeting spaces hold up to 70 people, a great option for socially distanced meetings for 40.
In addition, our onsite Nomad Podcast studio is equipped with a full Turn-Key Plug & Recording Studio and four Mics.