Are you in search of an incredible destination that will ignite your digital nomad lifestyle like never before?
Look no further! New York City is the ultimate destination for those craving the biggest and most incredible annual events ever.
This city is a powerhouse—a melting pot of opportunities that'll set your entrepreneurial spirit ablaze. And guess what? The event scene is off the charts!
From mouthwatering street food festivals that'll make your taste buds dance to mind-blowing art installations that'll transport you to another dimension, NYC has got it all.
So right now, we'll dive into the 5 Biggest Annual Events in NYC, NYC events timeline, and major festivals in NYC that'll grip you by the soul and keep you coming back for more.
If you're feeling that itch to let your adventurous spirit run wild and uncover an awe-inspiring side of America that'll leave you absolutely mind-blown, then hang tight because we're about to embark on an incredible journey together. Get ready for an experience that you'll cherish forever!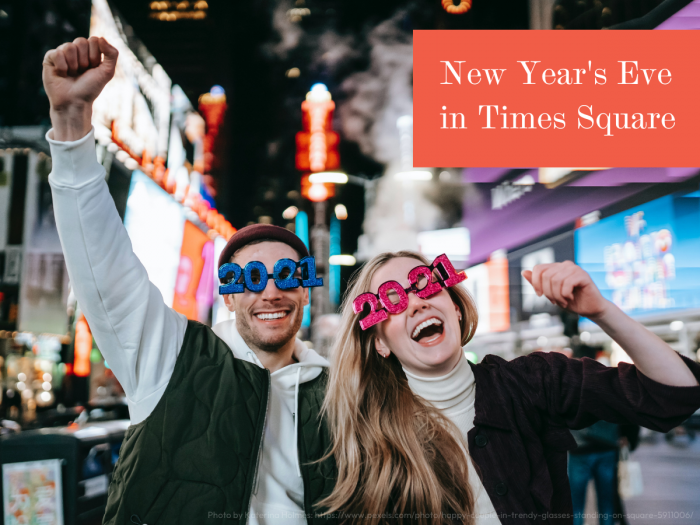 New Year's Eve in Times Square
Is there a better way to start your year than with an epic celebration at the bustling crossroads of the world?
As you know, on December 31st of every year, millions of people gather around Times Square and wait in anticipation for one of the major festivals in NYC—the iconic ball drop.
Picture this scene unfolding right before your eyes: the ball gracefully making its descent, reaching the very bottom, and in that split second, the sky coes alive with a dazzling display of colorful fireworks.
Not to mention, a confetti shower blankets the streets, infusing the air with a sense of hope, joy, and pure excitement for the incredible year that lies ahead.
It's a celebration like no other, where dreams are ignited and possibilities abound. So join the millions who gather in this electric atmosphere and kick off the year in style!
Macy's Thanksgiving Day Parade
This parade is the real deal and one of the most important dates in New York. It's a cherished spectacle that goes down on Thanksgiving Day itself.
Picture this: gigantic balloons soaring high above the streets, bringing to life your favorite characters in larger-than-life fashion.
But wait, there's more! We've got marching bands rocking the pavement, celebrity performances that'll make your jaw drop, and mind-blowing floats gliding through the streets of Manhattan.
It's a visual feast that attracts millions of wide-eyed spectators. And oh, don't forget the millions more glued to their screens, catching the action on TV.
If you're ready to witness pure parade magic, Macy's Thanksgiving Day Parade is where you need to be. It's a tradition that embodies the spirit of gratitude and celebration, New York City style!
St. Patrick's Day Parade
The largest parade in the world takes place every year on March 17th. This iconic event is a huge celebration that attracts performers and visitors from all over the world.
The parade route stretches several blocks long, with plenty of floats, Irish dancers, marching bands, and special guests. The atmosphere is absolutely electric—it's almost like a giant street party! Plus, you have to check out the green river dyed in honor of St. Patrick. This long-standing tradition adds a unique touch to the festivities which makes it one of the most colorful major events in NYC. Indeed, this is one of the major NYC events you should not miss.
Tribeca Film Festival
Let's dive into the thrilling world of the Tribeca Film Festival—an absolute game-changer in the film industry that will take your creativity to new heights!
Picture this: an electrifying gathering that brings together a mesmerizing range of independent films, eye-opening documentaries, and mind-bending virtual reality experiences. It's a cinematic journey that will transport you into a world of art and storytelling like no other.
What makes the Tribeca Film Festival truly stand out is its unwavering dedication to diversity and creativity. It's a hub of innovation where visionary filmmakers come together to share their unique stories and push the boundaries of the art form.
You'll be captivated by thought-provoking narratives and spellbinding documentaries that unveil untold stories, creating a treasure trove of cinematic wonders for you to explore.
But here's the real kicker—the Tribeca Film Festival also gathers some of the most influential figures in the industry, all converging under one roof.
So if you're seeking an experience that will leave you inspired and in awe, this is the place to be!
Fourth of July Fireworks
The Fourth of July is a huge celebration in New York City, and the centerpiece of the festivities is the awe-inspiring fireworks display.
This spectacular show lights up the night sky with exploding stars, multicolored showers of sparks, and an unforgettable soundtrack.
The display is visible from various spots around the city, so pick your favorite spot—you don't want to miss a moment of this jaw-dropping spectacle!
But that's not all. The Fourth of July in New York isn't complete without a trip to the Statue of Liberty, some tasty BBQs, and fun activities for the whole family.
It's an all-out celebration that brings together people from all walks of life, and it's truly an incredible experience to be part of it!
It's A Wrap
We've just unveiled the top five must-attend annual events in the concrete jungle, and trust us, you don't wanna miss out.
Gab that marker, circle those dates, and brace yourself for an adventure of a lifetime!
Whether you're an adrenaline junkie seeking the pulse-pounding excitement of a parade or a culture connoisseur hungry for the Tribeca Film Festival experience, New York City delivers something truly special and electrifying.
Anyway, if you're a digital nomad who wants to explore new places, New York City is the perfect place for you.
You can experience the culture and excitement that this city has to offer. It will be like your heart is beating with the city!
And don't forget to check out Nomadworks for an unforgettable coworking experience in the heart of the city.
We have two awesome locations for you to choose from, so head over to our website and book a tour today.